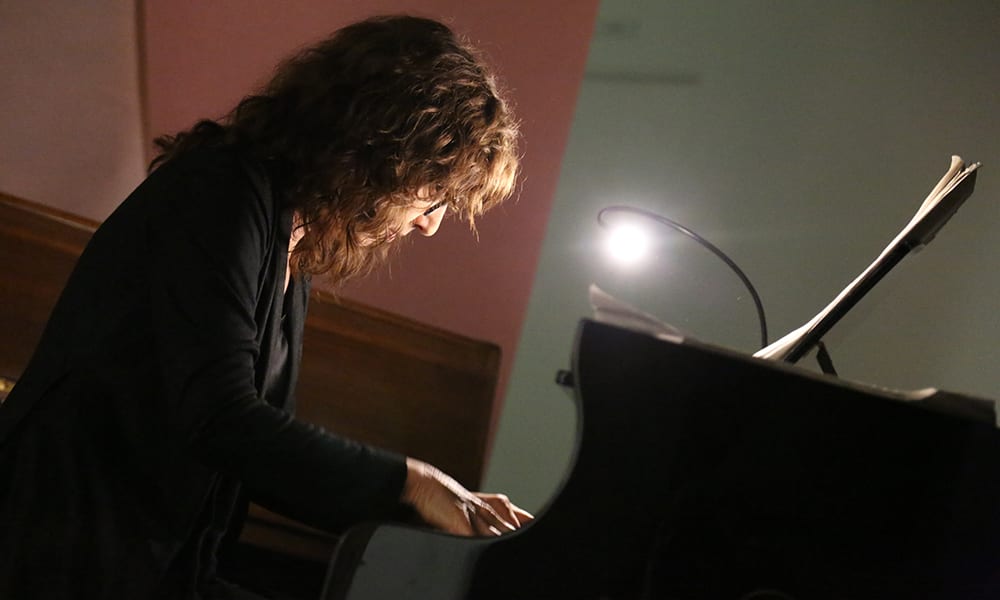 This recital explores Stravinsky's famous quotation "All composition is frozen
improvisation." Three of the works – Schnittke, Poulenc and Bartok are called
"improvisations" but are completely notated. So if those pieces are totally frozen
what about pieces that are only partly so? Graphic works – (Smith) and pieces
indicated by a set of verbal directions (Budd) are partly frozen in that some
aspects are determined and some not. And if one plays a transcription of an
improvised solo (Taylor) is that a composition or an improvisation? Then there
are other classical titles for works that are essentially written out improvisations:
Fantasias (Deyoe) Impromptus (Kagel) and Capriccios (Ligeti) Finally the concert
also includes a real-time improvisation/conversation between the pianist and a
computer program in which the players sightreading accuracy gives birth to how
the piece composes itself: Blue Sky Catastrophe:
Blue Sky Catastrophe for piano, live computer processing, and spatial sound, is
based on performer-driven generative musical processes. Musical phrases are
algorithmically generated live by the computer and the performer is asked to
sight read them. The computer then assesses the performance and generates
the next phrase of music for the pianist – either more or less difficult based on
the pianist's performance. The pianist is asked to read the music accurately while
also being given latitude to influence the computer's musical decisions and pace.
Therefore, the score of the work is entirely performer-driven, different in every performance.
The computer is set up to react not only to accuracy but also to
aspects of the playing that will control live generated electronics such as
harmonic attractors and spatialization. The performer and computer are engaged
in a feedback loop that explores degrees of stability, periodicity, non-periodicity,
mirco-tuning, and quirky, chaotic potential.
PROGRAM
Alfred Schnittke – Improvisation und Fuge (1965)
Wadada Leo Smith – Majestic (1995)
Francis Poulenc – Improvisations op. 15 (1932-59)
Harold Budd – Piano Piece/Memories Returning (1967)
Martin Herman/Seth Shafer – Blue Sky Catastrophe (2020)*
INTERMISSION
Nicholas Deyoe – Fantasia (2005)
Mauricio Kagel – Impromptu (À deux mains) (1995)
Gyorgy Ligeti – Capriccio #2 (1947)
Cecil Taylor (trans. Kaja Draksler) – Life as….(1999)
Béla Bartók – Improvisations op. 20 (1920)
*denotes World Premiere
Supported by the Department of Cultural Affairs, City of Los Angeles; the Los Angeles County Board of Supervisors through the Department of Arts and Culture.